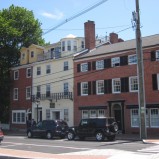 Seacoast Region Sees Increased Home Sales, Higher Condo Prices
Posted by NH Real Estate Guide on May 10, 2014 in Blog, Market Conditions, News, Regions, Seacoast | 0 comments
April 2014 home sales are surging on the New Hampshire Seacoast. According to the Seacoast Online, April sales are up 22.1 percent compared to March 2014 and 8.8 percent over the sales recorded in April 2013.
"With demand increasing, we are seeing a lot of competition among buyers for available properties," said Tom Heany, president of the Seacoast Board of Realtors. "Since inventory seems to be growing at a slower rate than demand, I foresee that competition for well-priced homes will only continue. It's a situation that favors sellers, since competition will likely lead to increasing prices."
The Seacoast Board of Realtors, which tracks 13 communities in the region, reported a new monthly record for single-family home sales and "a remarkable" third-straight month for condo sales.
Yearly sales volume for single-family homes is up 4%, with median sales prices holding steady at $340,000. Condo sales volume has surged 30 percent, with median sales price increasing 7.3 percent for the year, to $225,500.
Meanwhile, the Board reports inventory levels at a three-year low for both single-families and condos, with condo unit inventory down 10% from last month, now 224 units.
News Source: Seacoast Online
Image Credit: Doug Kerr